Intel/Westinghouse Science Search Found Me After 47 Years
Tuesday, 18th June 2013
Back in 1966, I was a national finalist in the Westinghouse Science Talent Search and won several prizes for my solar flux rocket engine and proton accelerator at the International Science Fair in Dallas. That was 46 years ago.
Fast forward to late May and Intel has assumed the mantel of looking around the globe for other budding scientists (see letter below).
And somehow, in some old file cabinet, are half-century-old documents which is obviously how they found me.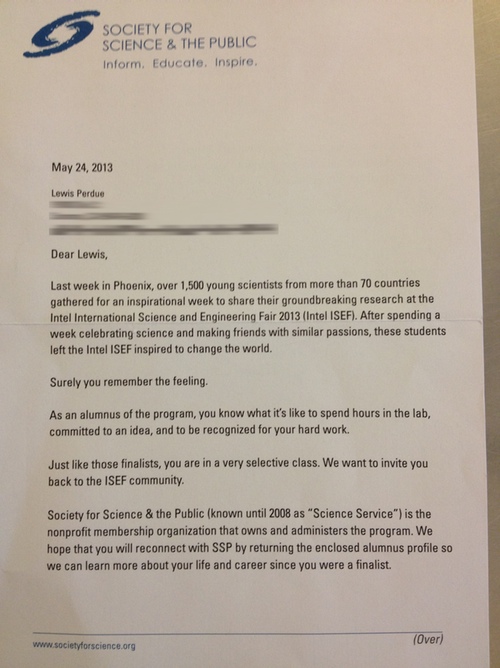 And yes, I still remember the feeling. And feel good for someone else remembering. It's not like some "glory days" wistfulness, but more of a good deep, satisfying vision of where creativity, hard work and a little intelligence can lead.
I didn't follow the scientific path. I would like to have done that, but I put myself through college as a newspaper reporter and needed to continue working rather than go to graduate school. I still love science and math. I've kept up with a lot of it and have worked quite a lot into my books — Slatewiper, Tesla Bequest, Queensgate Reckoning, Perfect Killer and Die By Wire especially.
Some times I wish I could go back to school. I'd really like to be as competent as a human could be about quantum chromodynamics, particle physics and such. But I do not regret the non-linear trajectory of my life. I wouldn't change my family or my friends for all of the quarks in the multiverse.
But it does feel good. And, yes I got suckered and joined the ISEF community.
TESLA, TESLA, TESLA
Before I wrote The Tesla Bequest and my other books, I was a Nikola Tesla acolyte. For more, see: