The Spy Who Came In To The Gold
Monday, 20th May 2013
Joe Montana could sit down and tell me, show me everything he knows. And I'd never be a Montana-league quarterback.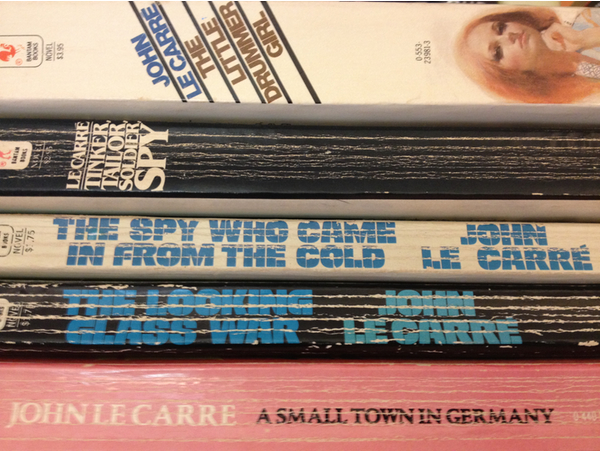 I'm a lot better writer than I am a quarterback, and I've studied everything about John leCarre', read everything, analyzed, examined and studied myself to death. And, while my writing may have benefited from that, I'm far from his class. Most authors are in the same predicament.
But, I have read … and re-re-re-re-read the following piece from the current issue of the Economist's supplement,  Culture/Intelligent Life with some hope that I might inch my writing forward a bit.
I especially liked this Golden Rule:
"Keep it simple. He favours short words. This makes the odd descriptive flourish—such as the image, in 'Call for the Dead,' of lines in a face 'cutting the skin into squares'—all the more piercing, like a match suddenly lit in the gloom."
And I was also taken with:
"Use of free indirect style, like Jane Austen. In nearly all his novels, le Carré flits between first and third person. He can catch the inflection of speech—"Lord knows"—while never fully giving his characters away. It is the technique of an author who wants to hold his cards to his chest. 2) Short chapters that often end on cliff-hangers. Conversation will be cut off mid-speech at the end of one chapter, to be taken up in the next. Brevity is the key: three months in prison will be covered in three pages…."
I've tried the mixed use of both first- and third-person (in Perfect Killer) with mixed results from readers … some loved it, some not so much. Just proving … again, that I am not le Carre'.
The piece notes that The Spy Who Came In From The Cold turns 50 this year which is why I climbed up my bookcase ladder and pulled that down along with a few other oldies to re-read.
The Richard Burton DVD of The Spy Who Came In From The Cold of is also on my agenda.
Speaking of agendas, while le Carre' writes superbly and is a stylist unmatched, I profess a slackening of my interest on his writing since The Little Drummer Girl. That's about the time he began to mount an increasingly large soap box and started to preach so loudly that — regardless of whether you agreed with him politically or not — the sermons took on a cloying, annoying quality that sapped much of the enjoyment.