David Stone: Superb Writing in Thrillers
Sunday, 28th October 2012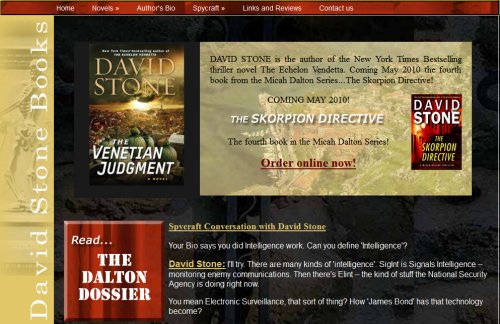 David Stone is, for my reading taste, one of the best writers on the planet in any genre.
His ability to use the best possible words to evoke a mood, describe a character or set a scene just resonates with me … and makes me envious as hell.
Below are a few of my favorite examples, from The Skorpion Directive. I chose these because  like the feel, the sensory connection of being able to experience what he's writing.
I find these excellent examples of a writer being able to do the very hardest thing: recreating in the reader's head the same scene playing out in the author's.
"He had a big-bolt-action rifle slung over his shoulder and was dragging a very unhappy alligator, trussed up like a Christmas parcel and hissing like the air brakes on a Freightliner."

"A blood-warm, coal-black ocean, sounding like rolling thunder under the starless sky  …."

"… the cashmere dress clinging to her graceful curves like mist on the bend of a river."
Leave a reply below. Tell me who you think is the best writer in thrillers today. Leave plot and pacing out of it and post a sentence of great writing where the words excel.