Free Die By Wire Ebook Update, Complete Re-Edit
Saturday, 22nd September 2012

A new Die By Wire update is available as of Friday and is free to everyone who already owns the Kindle version.
I've received many … MANY emails from Die By Wire readers who have suggested format changes, or who have been less than pleased by typos.
I also received a very thorough vetting of my Dutch words and locales by talented new author Martyn Van Halm who helped me tweak things as only an Amsterdammer could. Martyn's first novel, Reprobate – A Katla Novel (Amsterdam Assassin Series) is a great thriller shot through with some unique psychological insights and the sort of northern-latitude European tone-of voice that Stieg Larsson fans will find familiar.
All of those are my fault because I was so anxious to get my new book out. Mea culpa!
I want to make sure readers are happy, and don't want minor annoyances to get into the way of the story. So, I've completely re-edited Die By Wire and we've reformatted the text to make reading easier and clearer.
If you don't already have Die By Wire, get the new version while it's on sale at $2.99.
HOW TO GET THE FREE UPDATE
There are a couple of fast, automatic ways to get the free update, but according to Amazon, those could take a month (see THE WHOLE KINDLE DIRECT PUBLISHING UPDATE PROCESS, at the bottom of this post).
If you want the free update now, the fastest way for someone who already owns Die By Wire to get the free update  is to click on this link: https://www.amazon.com/gp/help/contact-us/kindle-help.html/
That link will lead you to a screen that looks like this. Fill in the blanks as indicated in the image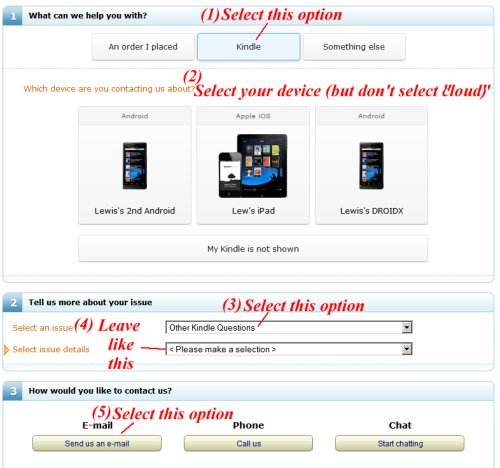 AFTER YOU CLICK "SEND US AN EMAIL" you will get the following screen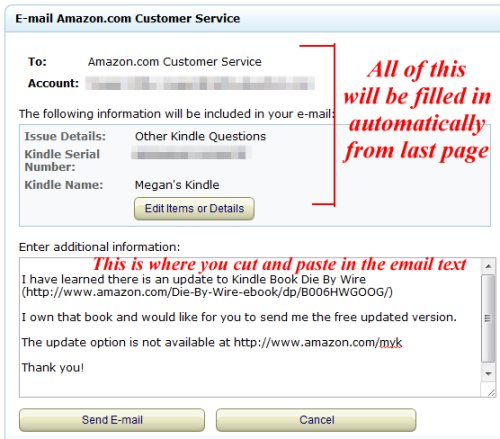 COPY AND PASTE THE FOLLOWING TEXT into  the "Enter additional information" box as shown above.
I have learned there is an update to Kindle Book Die By Wire (http://www.amazon.com/Die-By-Wire-ebook/dp/B006HWGOOG/)
I own that book and would like for you to send me the free updated version.
The update option is not available at http://www.amazon.com/myk
Thank you!
Then click "Send E-mail." Pretty soon you should get your response from Amazon Kindle support. Follow their instructions and you'll have the updated version.
CLARIFYING AMAZON'S INSTRUCTIONS
After you send the email, you will get the following response, the first part of which can be confusing. I have added a short explanation in red to help you along.
FROM KINDLE SUPPORT EMAIL:
Hello,

I've sent the updated version of "Die By Wire" to your Kindle.

To complete your download, verify that your device is sufficiently charged and your wireless connection is enabled.

First, delete the current version of the book you have on your Kindle Home screen.To do this on Kindle hardware, first highlight the Die By Wire icon/cover. Then press the left arrow navigation key  That will offer you the choice to delete the version you have. Go ahead and delete it.


Then, press Menu from the Home Screen and select "Sync & Check for Items."It will show up as an archived item.  Click on it and it will download to your Kindle.


If you have any additional questions, please feel free to contact us over the phone or chat for live assistance.
THE STORY ON KINDLE'S LONGER UPDATE PROCESS
This is the email I received today after requesting that current Die By Wire owners be notified of the availability of a free update.
Hello,

We received your request to provide updated content to customers who purchased your book. Thanks for providing specific details about the changes made. We'll perform a review of the changes to determine the most appropriate way to describe the updates to your customers. This review will be complete within four weeks, and the possible results of our review listed below.

1. If the changes made to your content are considered critical, we'll send an email to all customers who own the book to notify them of the update and improvements made. These customers will be able to choose to opt in to receive the update through the Manage Your Kindle page on Amazon.com. www.amazon.com/gp/digital/fiona/manage

2. If the changes made to your content are considered minor, we won't be able to notify all customers by email, but we will activate their ability to update the content through the Manage Your Kindle page on Amazon.com.

3. If the changes made to your content have caused unexpected critical issues with the book content, we'll temporarily remove your book from sale. We'll notify of you the issues found so you can fix them. Once the improvements are made, just let us know and we'll then email customers as in case 1.

Once our review is complete, we'll email you to share the results and action taken. You can let your readers know about this process, so they will know you already updated the content.

Thanks for using Amazon KDP.